Happy New Year Central,

The elders met this past week and gathered to lift up Central Community Church in prayer as we embark on a new year of ministry in the communities that God has placed us in. The elders prayed with those who came to receive prayer, prayed for our pastors and staff, and for our congregation across Central's five campuses. Our prayer is to see God continue to move in mighty ways in the lives of His people, for the gospel to transform lives, and for each and every one of us to grow ever closer to Him in the midst of our diverse circumstances.
The elders had the privilege to start this first meeting of the year by commissioning one of our new deacons who is serving in and leading the Food Service team. We were encouraged to hear how this ministry has supported and facilitated so many other ministries in our church this past year and prayed for renewed strength and passion for our Food Service team as they continue to serve this year.
Pastor Matt then led the elders in a devotional in the book of Isaiah (Isa 6:1-8). This passage describing Isaiah's vision of the Lord was a reminder of God's holiness, man's imperfect nature, God's redemption plan and atonement for our sins, which as a result prompts the prophet Isaiah to respond "Here I am. Send me". May this also prompt us to be the hands and feet of Jesus, each in our own capacity. Looking back at our Five Weeks of Giving during Advent, the elders were thankful for the evident generosity of our congregation whether it was providing backpacks for families in need, sponsoring children through Compassion, supporting a new church plant in the Lower Mainland, providing canned goods for the food banks, or meeting our own giving goal for the year as a church.

Keeping in step with one of our values to equip the saints for the work of ministry, a number of classes/event are resuming. Central's Preaching Lab, which started earlier this month, is an opportunity for some to explore their gifting in this area. Our Foundations class on Core Doctrine is also resuming next month and in an effort to make these available to a larger audience, these classes will be recorded to allow you to study either personally or in your Life Group setting. We pray these will be a helpful avenue to grow your roots deeper in the timeless truths of God's Word.
Our elder nomination process will also start in a few weeks and we pray that God will make His calling clear in the heart of those He has prepared to join and serve as elders within His Church. We invite you to lift up the men of Central in prayer as you take part in this process, discerning and eventually bringing forth nominees whom you think would prayerfully consider serving as elders of our church.
Finally, the elders have set a date for our Annual General Meeting which will take place on March 6, 2023. This will be an opportunity to praise God together for what he is doing through His people at Central, to present the budget that the elders approved for this new year of ministry, and to pray for God to lead us and equip us for what lies ahead of us.

God bless you.
Julien Garner
- On behalf of the Elders at Central Community
---
Finance Update


The Elders were encouraged to receive news that Central finished the financial year well. As a result of the generous investment of our congregations to our 2022 budget of $2,287,379, we received $2,268,938, just .8% short of our goal. The Elders thank you for your investment in our vision to reach the eastern Fraser Valley with the Gospel. It was noted that ministry and operational expenses were well within budget parameters, while capital investments into our Harrison, Lake Errock, and Chilliwack campuses pushed us over in our overall expenses.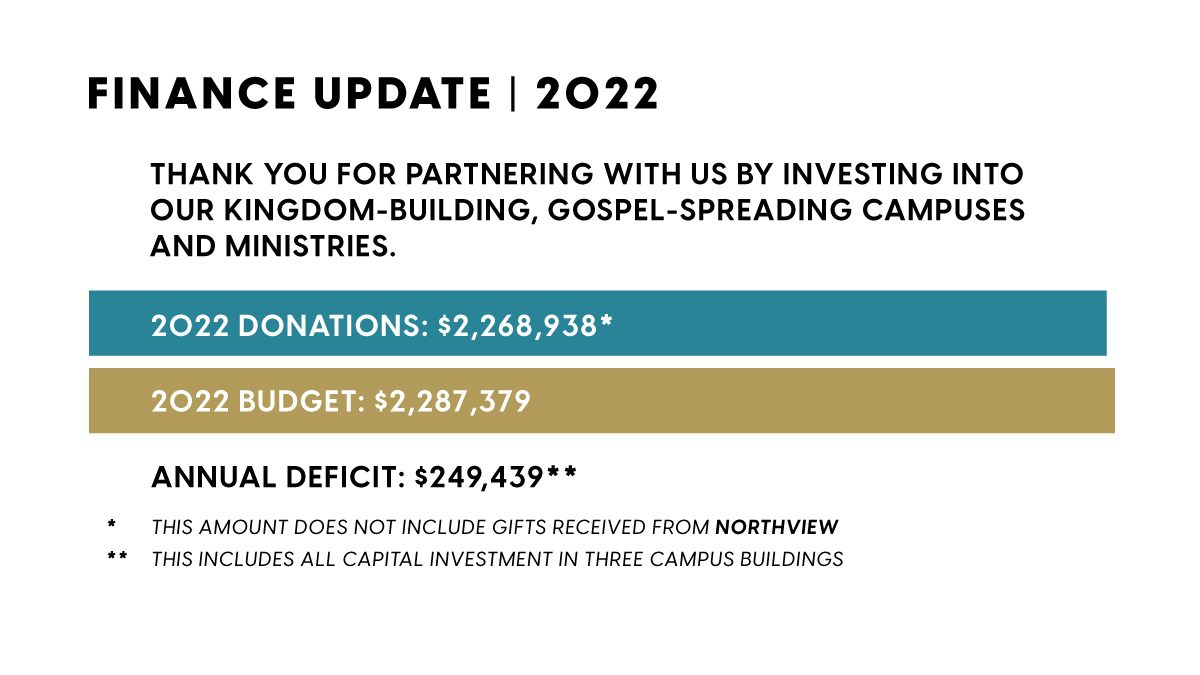 Over the past couple of years Central received four titles for property and buildings from the BC Conference of MB Churches (in both Harrison and Lake Errock). While these properties were gifted to the church the two buildings we received required significant investment in terms of capital for renovations, upgrades, and equipment. Our commitment to launching Harrison, and the flood in Lake Errock saw Central invest a total of $529,098 in these two buildings in 2022. These costs were funded for the most party through cashflow and a gift of $300,000 from Northview church. Central finished the financial year with an overall shortfall of income to expense in the amount of $249,439, all attributed to capital expenditures for campus expansion or repair. After a significant season of discussion the Elders, in keeping with their purview, have determined to increase Central's mortgage by $500,000 to cover these expenses and restore cashflow, and to cover anticipated capital projects in 2023. The Elders encourage the congregation to consider reducing our mortgage as they are able or feel led.
The Elders approved a budget for 2023 that will be available in the annual report, and presented at the annual meeting. It includes an accounting for capital projects, and reflects the cost associated with staffing and operating five locations. The Elders celebrate God's faithfulness through the Central congregation and look forward to a year of ministry on mission.
---
RECEIVE PRAYER FROM THE ELDERS


Our Elders have such a heart for the family of Central. Whatever burden you are carrying, the Elders count it a privilege to lift you up in prayer. You're invited to come receive prayer from them before each monthly Elder's meeting.
Tuesday, February 21 | 6.30pm - 7.00pm
Chilliwack Campus | 46100 Chilliwack Central Road
---
Got questions or words of encouragement? We'd love to hear from you!
Please contact The Elders - elders@centralcommunity.ca