We Elders met this past Tuesday for our monthly time together. It was an extra special evening given we started our time with enjoying a meal with all of the Central pastors. Julien shared some thoughts from 1 Corinthians with all of us. The Holy Spirit is at work and opening doors as a response to our prayer. Amazing to think what is in store that we don't yet see!
We spent time throughout the evening praying for the congregation. If you have a specific prayer request please make your request here and it will forward to the group who pray regularly for you.
Please remember to pray regularly for our Pastoral team, their marriages and families; we are truly blessed to have such a cohesive, unified team committed to equipping us all to love God, and the people of the Eastern Fraser Valley.
You may not see Pastor Ron for awhile. He is taking his vacation and a sabbatical through the end of August. Please pray for he and Sherrie as they explore BC for a time of spiritual and personal refreshment.
Be sure to review the upcoming events on the website. A corporate evening of worship, Pentecost missions Sunday, summer day camps in all five of our campus communities, plus so much more! Our volunteer appreciation events are coming soon as well. We thank all individuals who enjoy participating with volunteer time in many ministries of the church. If you currently aren't serving at Central, we encourage you to fill out a Connecting Card or ask your Campus Pastor; there are so many areas that need you…and serving is fun!
Central is part of the British Columbia Conference of Mennonite Brethren Churches (BCMB) and participated in their annual convention this past month. Please pray for our denomination as we seek a fresh, renewed vision to proclaim the Gospel in the future in a time of transition at both the conference and the college (CBC).
Thank you for your continued demonstration of faith through financial support to the work of Central. As your schedule and attendance may vary moving into the summer, please consider automatic withdrawal giving that can be setup through the website and continue to support our vision of seeing the Eastern Fraser Valley transformed by the Gospel!
Ernie Charlton
- On behalf of the Elders at Central Community
---
Finance Update


The Elders received word that giving to the mission of Central has increased over the same period last year by 8% to $649,019. With our robust and diverse ministry venues. expenses are also up over the previous year resulting in a year-to-date shortfall of $139,500. While this is significantly better than the same period last year, the Elders encourage the congregation to consider how they might support the ministries of the church especially as we move into what are typically lean Summer months. Expenses are being monitored closely with the staff team ensuring they steward resources well.
The Elders noted an increase in benevolent giving which is used to fund needs within the congregation and community. Once such need is the food program at Promontory Elementary which Central recently began supporting to assist families struggling to make ends meet. The Elders are grateful for the faithful and sacrificial support of the congregation as together we strive to see the Eastern Fraser Valley transformed by the Gospel.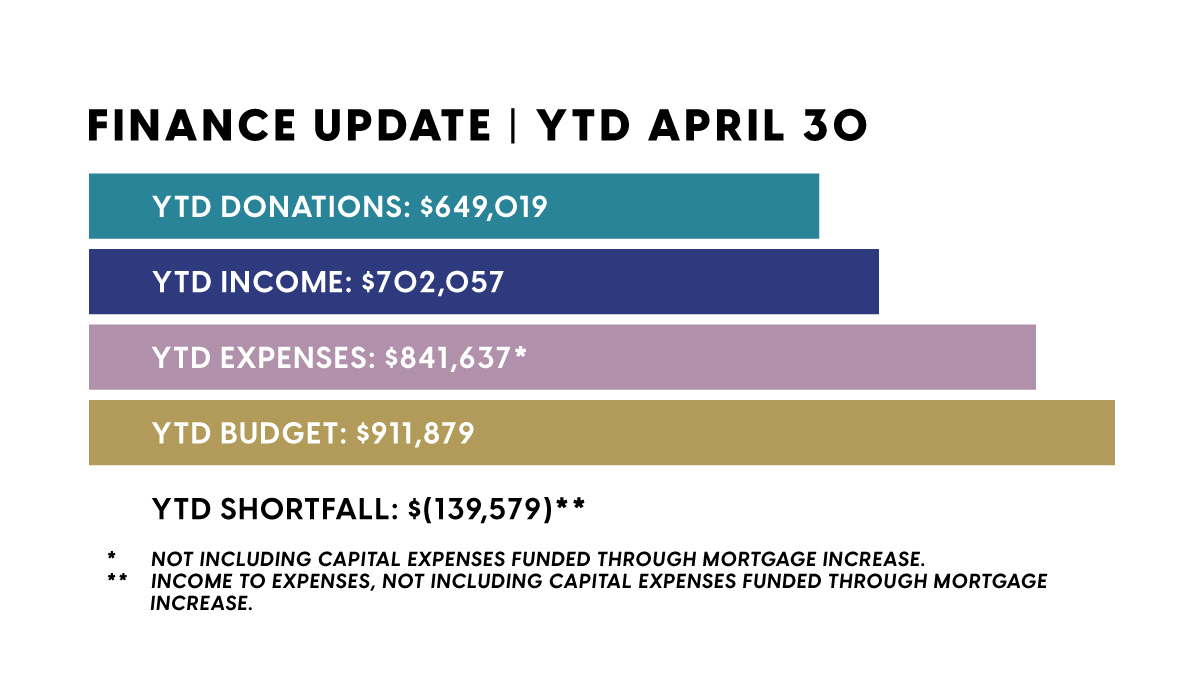 ---
Got questions or words of encouragement? We'd love to hear from you!
Please contact The Elders - elders@centralcommunity.ca